Your customers are here… are you?

Here is a real-life example of search positions we achieved for a local delivery service. As you can see they have 2 first page positions on Google. The first listing is their organic search results, the second is their Google Place page. We can help you achieve similar results for your business.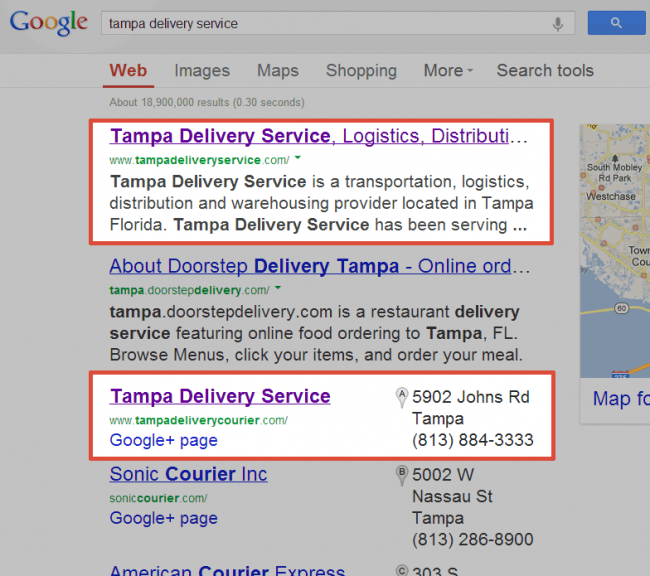 If you're a business owner (like me), you probably get at least one automated call a week asking you to "Claim Your Free Google Listing"…  If you get one of these calls, do what I do — hang up (and do it quickly).  I don't know who is calling, but it is certainly NOT Google.
It seems everyone these days is trying to "cash-in" on the search-engine craze. I mean, who doesn't want to be on the first page of Google?
The truth is, if your website is well-designed, it  should rank well – all on it's own. Of course there are things you can do to help boost your rankings, but you should have a knowledgeable person guiding you – not some automated call service.
SEO / SEM
SEO stands for Search Engine Optimization
SEM stands for Search Engine Marketing
SEO generally involves adding keywords to your website so the search engines (like Google) know what your site is about. If your website is not optimized, search engines simply won't find you.
SEM generally refers to "off-site" optimization.  This involves building links back to your website (back links). This is done by submitting your website to directories as well as setting up your  social media pages.
Google is constantly shifting it's "algorithm". If you want to stay at the top of the search results, you need to stay on top of SEO/SEM. This is simply something you can not afford not to do.
Call us today to see how we can help your business GET FOUND – 813-792-2889.